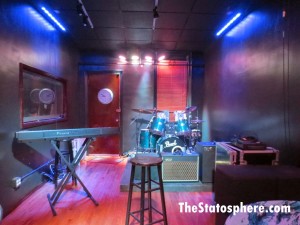 Brooklyn, NY From 11am – 2pm on Sunday, on June 21st, Stratosphere Studios will host one of ten small mobile recording studios on NYC sidewalks.
These "Street  Studios," coordinated by Make Music New York, Found Sound Nation,
and Original Music Workshop, will engage passersby and MMNY festival
musicians in the spontaneous, collaborative production of original music.
DJ-engineers  Ethan Smythe  and  TiJuan Aikens will focus on mixing, recording, and playing back the live sounds, and interacting with the public who stop by to sing, play an instrument, or record sounds that become part of the musical track. The pair will also focus on preparing this material for the evening, to present  at  MMNY  will host a "Street Studio Smackdown" party in Williamsburg.
At the Smackdown, each producer will show off the music they were able to create (6-10 minutes per team), and talk about the experience. A panel of judges / audience voting will determine the winner (or not). Everyone who records material throughout the city in the morning will be invited to this (free) evening event. A week later, the full Street Studio Mixtape will be released to the public  on the NPR Music website, showing off the music made by participants in each neighborhood. (We will also film the project for future use in a PSA by the NAMM Foundation.)
To get involved Arrive at by  1pm ready  to show the world your talent! Bring a friend to be part of this historic event